Teeth Whitening in Vancouver, BC
Professional teeth whitening is a customary procedure favored by patients seeking cosmetic dentistry in Vancouver. Teeth whitening from a dentist can quickly transform dull teeth into a bright, gleaming smile.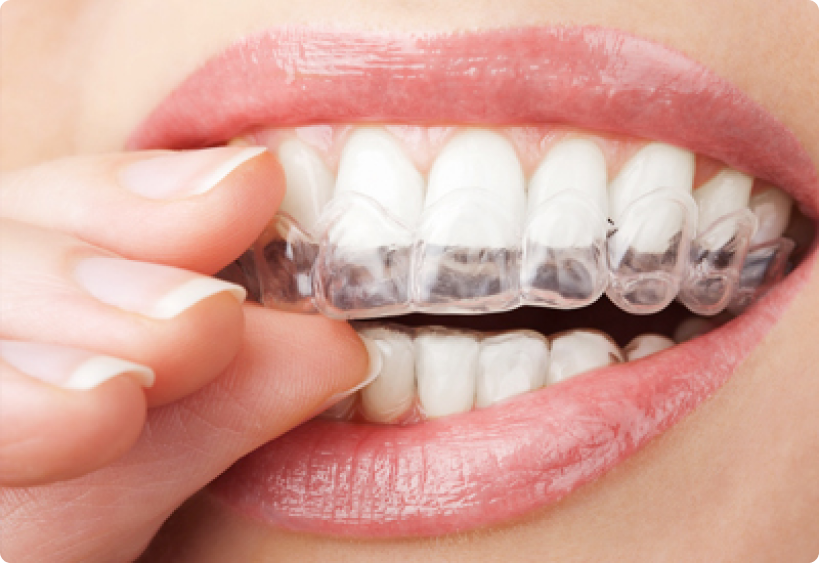 The whitening solutions used by our dentists are more effective than drugstore brands because they have a significantly higher concentration of carbamide peroxide, the main ingredient used in teeth whitening products.
Why patients choose cosmetic dentistry in Vancouver for whiter teeth:
To brighten dull or worn tooth enamel
To erase stains caused by antibiotics, food, beverages and tobacco
To reverse the effects of fluorosis (heavy fluoridation during tooth development)
Options for Teeth Whitening Cosmetic Dentistry in Vancouver
With cosmetic dentistry in Vancouver, teeth whitening can be achieved in different ways. After discussing your needs and examining your teeth, our dentists will suggest one of the following treatment options.
Teeth Whitening at the Office
Whitening teeth takes about an hour to complete at the office. Our dentists will carefully place the whitening chemical on your teeth and apply laser light to safely activate the process. Unlike over-the-counter whitening, which tends to drip into the gum line and burn, your gums will be fully protected with a rubber barrier specially designed for office teeth whitening procedures.
Some patients prefer an at-home whitening treatment that they can administer themselves using dentist-prescribed whitening solution and customized trays that fit snugly over the teeth. Tooth impressions are captured and the customized whitening trays are created. Our dentists will tell you how long to keep the trays over your teeth to get the result you want. The trays you get from our dentists are better than the drugstore variety, because they are customized to wrap around your smile and nobody else's. The other trays are not, and they are more likely to cause irritation, streaking, and disappointing results.
Patients with resin fillings, crowns, and other dental work will need to have those restorations matched to the rest of the teeth once the treatment is completed, because the whitening process will not work on dental work. Call our dentists today and schedule a consultation for cosmetic dentistry in Vancouver.
Our dental clinic is located in Vancouver, BC, and our dentists serve patients from the Vancouver area. We specialize in cosmetic dentistry including porcelain veneers, crowns, bridges, and Invisalign. We are looking forward to welcoming you to our office and encourage you to schedule your appointment today!
Have Additional Questions? Call Now!
The form may take up to 3 seconds to submit, please wait patiently after submitting your ticket. Thank you
Message from Dr. Steven Tsoung
"Modern Dental's philosophy is patient-focused, ensuring your needs are heard and met. Our team of dentists is skilled in the leading dental techniques to help you achieve your ideal smile and maintain optimal oral health. If you're looking for a dental clinic that truly cares, Modern Dental is the place for you!"