Dental Implants in Vancouver
What are dental implants? Dental implants are an ideal tooth replacement solution that you can get from a dentist! Please call us today for a dental implants consultation with our dentists.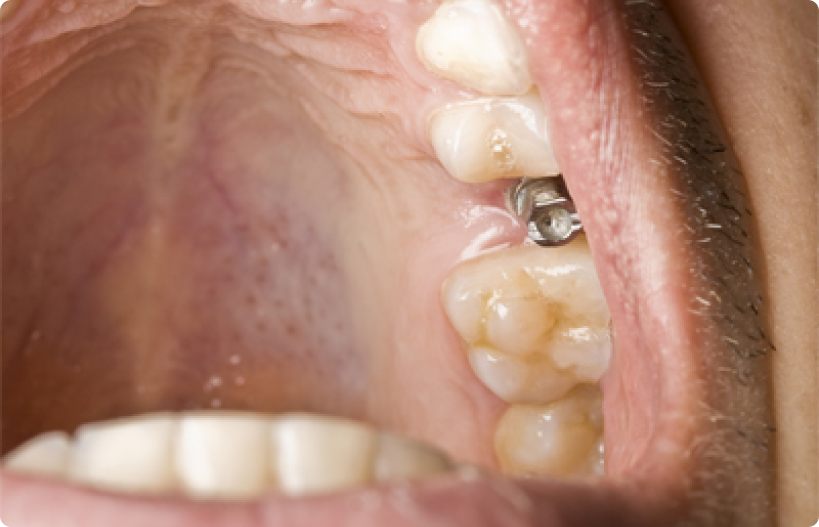 People loose teeth every day because of gum disease, injuries and tooth decay. By age 44, almost 70 percent of adults are missing a tooth. By age 74, more than a quarter of the population has lost them all.
Dental implants are supported by more than 50 years of medical research as a successful choice for missing teeth.
What are dental implants made of and how do they work?
Dental implants are tiny screws made of body-friendly titanium that our dentists place right inside the patient's jaw bone. The process, called osseointegration, means once the implants are placed, they completely fuse to the jaw bone. Now they are just like real teeth; functional, dependable and lasting.
Dental implants also resist decay and are built to last. With good oral hygiene and regular dental visits patients can enjoy their dental implants for decades.
Patients choose dental implants over other tooth replacement options because unlike alternative methods, implants stimulate the jaw bone the way your natural teeth do.
Dental Implants from Vancouver Dentists Make Life More Enjoyable!
Our dental clinic is located in Vancouver, BC, and our dentists serve patients from the Vancouver area. We specialize in cosmetic dentistry including porcelain veneers, crowns, bridges, and Invisalign. We are looking forward to welcoming you to our office and encourage you to schedule your appointment today!
Have Additional Questions? Call Now!
The form may take up to 3 seconds to submit, please wait patiently after submitting your ticket. Thank you
Message from Dr. Steven Tsoung
"Modern Dental's philosophy is patient-focused, ensuring your needs are heard and met. Our team of dentists is skilled in the leading dental techniques to help you achieve your ideal smile and maintain optimal oral health. If you're looking for a dental clinic that truly cares, Modern Dental is the place for you!"